the Heart-Pounding Puzzles of A Trio of Games
The smugglers in

A

Game of Secrets

,
Tricky Twists of

A Game of Spies,
& mURDER mOST fOUL IN A Game of Hearts
Regency mysteries and suspense with a dash of romance.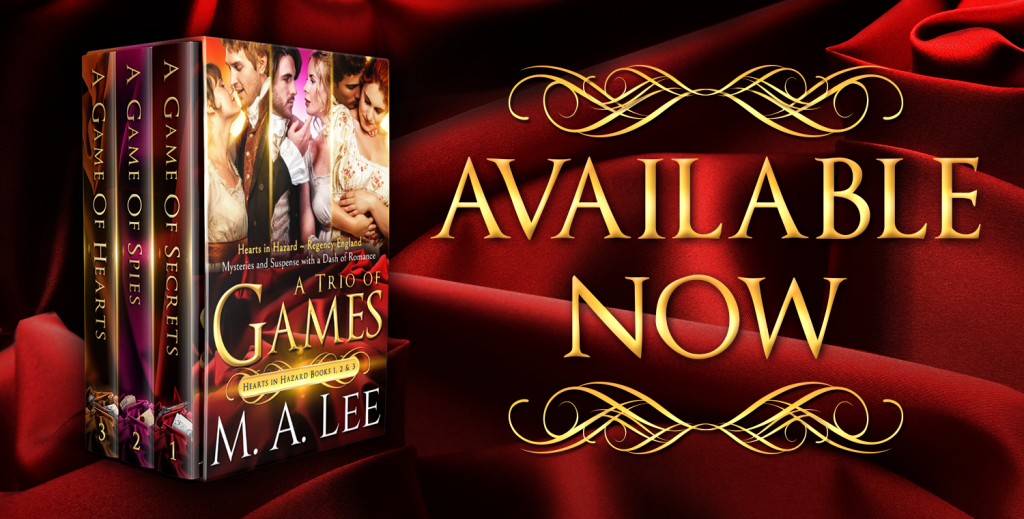 My first three books ever published, way back in 2015,
collected into A Trio of Games.
A Trio of Games offers my first three mysteries.
Long before I dreamed of publishing, A Game of Secrets rescued me from a dark time of life. Then came A Game of Spies at another dark time. In 2013, when I realized self-publication was not only possible but a reality, I began writing A Game of Hearts. Indie publishing was a dream coming true, and these three novels began my writing career.
These weren't the first novels I penned, but they were the first to enter the publishing world and be offered to readers, in October of 2015. Even in that month, the whole 12-book Hearts in Hazard series was just a dream.
This Trio of Games
The individual books are available in ebook and paperback formats while the collections are ebook only. All of the novels are available in wide distribution: Barnes & Noble, Kobo, Amazon, and many other distributors. Find your favorite online bookstore, and search for the individual titles or the series title under my pen name of M.A. Lee.
You can find the collection A Trio of Games at Amazon, available at this link, and at worldwide distribution with this link.
Throughout the summer, the other collected novels will come out of Amazon exclusivity and enter worldwide distribution. They are A Trio of Dangers, A Trio of Keys, and A Trio of Hazards.
It will be a busy summer of publishing for me, and a busy summer of reading for you!
Sink into the best reading: 3 heart-pounding puzzles in A Trio of Games.