Unlock mystery, suspense, and romance
in the Regency era ~
A Trio of Keys.
It's raining male protagonists in A Trio of Keys!
The Key to Secrets
After years in London, Constable Hector Evans returns to Chalmsley Court to solve a violent murder. He doesn't expect the victim to be the fiancé of Lord Chalmsley's youngest daughter.
His lordship wants a quick resolution, before gossip about the crime's salacious nature and trap-like killing becomes widespread. With no murder weapon, no identifiable clues, and no eyewitnesses, Hector has little evidence to build a case.
Yet he has plenty of suspects for the bloody death—including the woman he once loved.
Dark hearts and sharp knives of The Key to Secrets create a compelling entry in the Hearts in Hazard series of Regency mysteries and suspense.
The Key for Spies
Spies and traitors.  Lies and treachery.  Unexpected love where bullets fly.
One traitor destroys loyalty.  What will two traitors destroy?
The British spy Simon Pargeter scouts the terrain for Wellington's army in French-controlled Spain.  Miriella de Teba ye Olivita, the famed Doñabella, wants to give him aid, but she must first find the traitor lurking in her band of guerillas.
Can Simon escape the French patrol hot on his trail?  With Major Pierre LeCuyer actively seeking Doñabella's identity, can Miri hold her guerrillas together long enough to get the information Simon needs?  Can she locate the traitor before she is unmasked?
Or will the traitors reap the reward while Simon and Miri swing from the gallows?
The Key with Hearts
Married for money, not for love.
A convenient marriage inconveniently causes murder.
Six months ago, Liza Corbett married Greville Myers.  Her money saved his estate.  His nobility raised her station.  The couple have achieved an uneasy relationship, tepid and uncomfortable.
Then Liza is nearly killed in a failed attempt at murder.
Who wants her dead?
*The woman who had expected to marry Greville?
*The mother-in-law who hates her?
*Someone unknown?
*Or her husband, so he can keep her money and marry the woman he loves?
. ~ . ~ . ~ .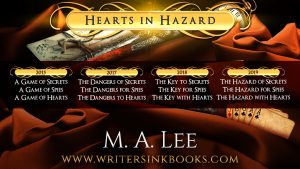 A Trio of Keys bundles books 7, 8, and 9
in the Hearts in Hazard series
of romantic mysteries and suspense.
Satisfy your reading needs with a classic

serial killer story in an English country manor

,

a spy chase on horseback in northern Spain

, and a vintage gothic in the vein of Victoria Holt.
Click this link to visit Amazon for the ebook or the paperback.
This link offers access to online distributors worldwide, like Kobo and Barnes & Noble.