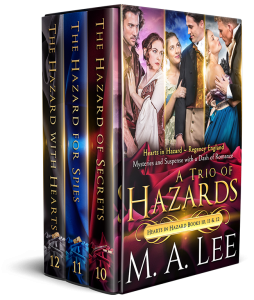 Welcome to A Trio of Hazards
twisty mysteries in Regency England
A Trio of Hazards offers people from the many spheres of life as they clash against each other—
and against murderers!
Complex Schemes, Dangerous Pasts :: The Hazard of Secrets
Clarey Parton crosses the Atlantic to steal an inheritance. She hopes that no one discovers the rightful heir lies in a cold grave.
Jem Baxter returns to the England he fled three years before. He assumes the name James Axminster to conceal his past, one littered with misdeeds.
When a press gang sees two people traveling alone, they seize the opportunity for quick cash: they plan to sell Clarey to a brothel and impress Jem on a merchant ship. Fate brings these two lonely souls together. Chance helps them escape.
Yet escape traps them in another secret—one with murder as a bloody solution.
The Hazard of Secrets offers twists and turns as tight as knots. Can Clarey and Jem keep their secrets, or will murder force them to reveal all?
Treacherous Traitors, Murders Past and Present :: The Hazard for Spies
Disguised to Spy.
Conrad Hoppock works with the Bow Street Runners to locate a French master spy. His search sends him undercover in a firm of solicitors.
Phinney Darracott wants justice for the murders of her sister and brother-in-law. Clues lead her to a firm of London solicitors. Disguised as a cleaning maid, Phinney prowls for the evidence. There she encounters Conrad.
And the lawyer at the center of the tangle of clues is shot dead while they watch from hiding.
Will Phinney and Conrad discover the connection between past and present murders? Or will two bullets solve the problem for the murderer and the French master spy?
Will murder destroy their chance for love?
Knotty problems turn into bloody events in The Hazard for Spies.
Rumors, Lies, Superstition, & Murder :: The Hazard with Hearts
The bride of the Earl of Sheldrake, Vivienne Northrup encounters ghost stories from venomous neighbors when she arrives at the Hall. Her husband is busy with the concerns of the estate, and his relatives are less than welcoming.
Then, while exploring the ruins of Sheldrake Castle, she barely escapes a stone dislodged from a tower.
Rumors whisper the Earl is a Bluebeard, killing his two previous wives. Others claim the first committed suicide while the second fell on the stairs. Which version is the truth?
Or were his wives murdered?
Two wives haunt the castle. Will Vivienne the third to die?
The Hazard with Hearts offers a determined heroine who confronts doubts, superstition, and the dark passions of a killer who wants every countess of Sheldrake dead and buried.

A Trio of Hazards
This collection is the last three books in the Hearts in Hazard series, mysteries and suspense with a dash of sweet romance. Set in Regency England, the novels are loosely connected and are complete, without cliffhangers.
Amazon shoppers: Ebook and Paperback Find it here!
Online distributors worldwide: here is that link, ebook only.