start 2023 with a freebie.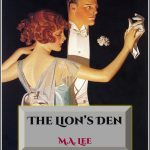 Jack Portman had never forgotten Filly Malvaise. Then she walked into his local pub and into the clutches of a loan shark. Can he rescue her before she falls victim to evil?
The Lion's Den is connected by a single thread to the Into Death series, which features the artist Isabella Newcombe. Jack and Filly first appeared in the mystery Christmas with Death.
Read this novelette and join the newsletter with Book Funnel: https://dl.bookfunnel.com/wc84divkre