The first novella in the Spells of Earth trilogy published on this date in 2021.
The Wyrded Forest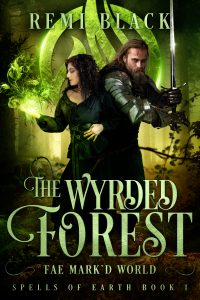 In The Wyrded Forest ~
Elemental Earth is a life-potential power. Can it be wielded to kill?
The Wyrded Forest: Wizardry burnt out and memory gone, Desora re-built her life in an isolated corner of the Northern Reaches.
She only wields the life-growing power of elemental Earth. She has nothing of Fire, Air, or Water. No fiery bolts, no whirlwinds, no drowning spheres: nothing for defense or attack.
Shape-shifting wolfen threaten her, able to transform out of Moon-turn.
And strangely gory deaths in the High Meadow mean a mysterious monster prowls, looking for life to consume.
With death menacing, Desora has no protection except her wards.
Wolfen and the eldritch monster kill the defenseless. Can Desora discover new ways to wield Earth before she becomes prey?
For elemental magic and dangerous Dark Fae allies, treacherous shape-shifters, and a twisty sorceress that seeks to defeat anyone associated with wizardry, look no further than The Wyrded Forest.
***
The Fae Mark'd World's first introduction to readers was with the Wizard Alstera epic novels: Weave a Wizardry Web, Dream a Deadly Dream, and Sing a Graveyard Song.
Then came the first trilogy of novels in the Fae Mark'd World: Spells of Air, with Orielle and Grim. The individual titles are To Wield the Wind, To Charm the Wind, and To Curse the Wyre.
Each novella in the Fae Mark'd World is a complete story, yet the trilogies are interlinked.
The Spells of Earth trilogy includes The Wyrded Forest, The Riven Gate, and The Mysts of Sorcery. Readers will experience a greater enjoyment reading the novellas in order.
View the Trailer: https://youtu.be/Oq4nRp9FIZk
Purchase Links: Amazon and other online distributors like Kobo and Barnes & Noble.