start 2022 with a freebie.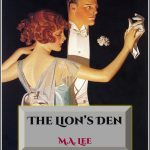 Jack Portman had never forgotten Filly Malvaise. Then she walked into his local pub and into the clutches of a loan shark. Can he rescue her before she falls victim to evil?
The Lion's Den is connected by a single thread to the Into Death series, which features the artist Isabella Newcombe. Jack and Filly first appeared in the mystery Christmas with Death.
Write to winkbooks@aol.com to receive a free copy of The Lion's Den and to subscribe to our newsletter.