Fantasy from Remi Black
Torrent of Evil
1st in the Spells of Water Trilogy
part of

 the Fae Mark'd World
Elemental Water. Keen-Edged Steel. Twisted Sorcery. Monsters Magical and Mundane.

Torrent of Evil
Death. That was the omen that the crows and ravens brought to Inkeri.
Deep in the desert Idros Ahdreide, men had lost their lives in battle against a strange evil. A half-Fae wielder, Inkeri ventures to investigate.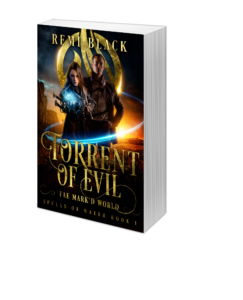 Rhodren, baron of the Bois Argent, is commanded by his king to investigate the disappearance of a troop and a caravan, lost at the abandoned citadel of the Archais, deep in the Ahdreide. Yet when he and his men reach the border, a flock of crows and ravens attack.
Surviving that attack, Rhodren and his men are then confronted by slavering panthers. Inkeri comes to their aid.
The Ahdreide has predators aplenty, all willing to feast on the wariest of travelers. What enemy marshals these dangers? What evil lurks at the Archais?
Will a wielder of elemental Water and mortal men discover the truth without become prey for the desert predators?
Available at these links:
Worldwide Distributors and Amazon
2nd in Series ~ Storm of Spells
Coming Soon! Inkeri and Rhodren and the troop reach the desert citadel … and discover death and mysterious enemies.
3rd in Series ~ This title is a mystery!
Coming Soon! More danger for Inkeri and Rhodren … and Fae allies who appear through the veil.