The Dangers to Hearts
Do broken hearts destroy all dreams?
Or will murder destroy the dreams?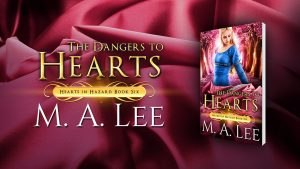 Years ago, Agatha Helmes' lover abandoned her. When her baby died at birth, she thought all her hopes for the future had ended.
She poured herself into her family's farm, but in the last year, mismanagement by three different stewards has the farm losing more money than she can pour into it.
Jess Carter occasionally crewed for a known smuggler to bring a little extra into his home. He fell for a maid working at the Hawthorn Inn. Then the smuggling ring was arrested. The woman he thought he loved married another man. With a bruised heart for company, he packed up all his possessions and left his home.
Not knowing where to go, Jess consulted the smugglers' fence Richard Helmes who directed him to Helmes Farm to assist the current steward. His cousin Agatha Helmes, he says, will hire anyone he sends to her.
When Jess arrives, the current steward is assaulting Agatha. He routs the old steward and finds himself in a job he doesn't understand, taking advice and orders from a woman.
Agatha knows only one thing about her new steward: he doesn't lie. Jess admits what he knows and doesn't know about farming. He admits that he is avoiding arrest for smuggling. That is more than she can say about her former stewards and her former fiancé.
Trust between Agatha and Jess grows from a seed to a mighty oak. Attraction entwines them with compatibility and grows the first tendrils of love.
Then the steward's cottage is set on fire, and Jess barely escapes.
The burned house reveals an old murder as the bones of Agatha's former lover are discovered—with a bullet hole in the skull.
And the deed to Helmes Farm and other documents go missing.
With Agatha's cousin trying to steal her farm, can Jess reveal her cousin hired him to watch out for his interests?
Will the constable investigating the new arson and the old murder think Agatha guilty of murdering her lover when he wouldn't marry her?
And will their new love survive the questions and confusion?
The Dangers to Hearts is a sweet romantic suspense of approximately 50,000 words. While the novel is the sixth in the Hazards to Hearts series, it is complete and contains no cliffhangers. The character of Jess Carter was introduced in the first Hearts in Hazard book, A Game of Secrets. Reading that novel will enrich your experience, but it is not necessary.
View the trailer.
Purchase at online book distributors like Kobo and Barnes & Noble, Apple and Google, and many others.
Or head over to Amazon for the Kindle ebook or paperback version.