Here's a W.Ink at the opening scene in To Wield the Wind
first novella in the Spells of Air trilogy, all set in the Fae Mark'd World.
Read a portion of the first chapter below.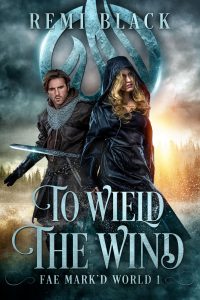 LINKS for Purchase ::
https://www.amazon.com/dp/B07RGMLH5Z
https://books2read.com/u/38QLz7
Box Set in ebook and paperback
https://www.amazon.com/Spells-Air-Fae-Markd-World/dp/1737422646/
Trailer https://youtu.be/PqjouEJtbjY
Chapter 1
Orielle guided the dapple-grey gelding along the narrow trail traversing the steep slope of the mountain.
Lights winked in the trees ahead, like the spectrum glints in her mother's diamond pendant, a gift for the spell she'd worked for the king.
She reined in the horse to watch the dancing lights. On the trek to this height, she'd seen the rainbow-colored lights a few times. The old man who had warned her of the Wilding said that she would see strange things, but this strangeness was beautiful. The lights flitted among the autumn-changed leaves. A cluster darted in and out, winking in unison. Light reflected from sun-glinted water moved randomly. These lights had a fascinating pattern.
Continue reading "To Wield the Wind ~ glimpse of the first chapter" →