The Dark Lord 
bk 1 in the series Miss Beale Writes ~ a touch of mystery, a touch of gothic
Everyone knows there's no such thing as ghosts.
Tell that to the two ghosts haunting Elizabeth.
Elizabeth Fortescue comes to Feldstone Grange seeking the position of housekeeper. She expects the Baron Harcourt to claim she's too young
and pretty for the position, even though she's qualified and has excellent references.
Yet the baron is desperate to hire someone, having lost five housekeepers over the past six months. He doesn't know what drove them away.
On her first night at the Grange, Elizabeth encounters two ghosts. One is the well-known Silent Lady; none of the servants know anything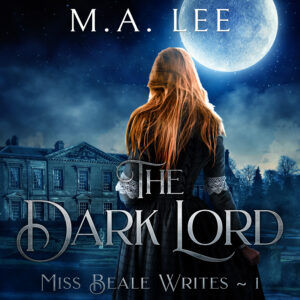 about the other ghost.
Over the next week, her connection with Lord Harcourt becomes more than servant to employer. She likes her position and her employer. He also appears to like her, wanting to meet with her daily.
One ghost, though, persists in its haunting of her, enticing her to follow it.
Is it a real ghost? Is a fellow servant attempting to terrify her? Or does someone have a wicked reason to haunt the new housekeeper?
Elizabeth doesn't know the answer—but she has more incentive to stay than leave.
Will she remain at the Grange? Or will the second ghost's increasing hauntings drive her away?
Or lead her into death?
The Dark Lord is the first in a series of paranormal novellas from M.A. Lee, who writes historical mysteries and suspense with a dash of romance.
This novella is first in the Miss Beale Writes series. They are best described as vintage gothics.
Like M.A. Lee's Hearts in Hazard 12-book series, set in Regency England, the novellas will be loosely interconnected, but each is a stand-alone story.
The Dark Lord is a 35,000+ word novella with two ghosts, a determined young housekeeper, and a scared dark lord. Exactly what you want to read this spring!
1st in the series, 1st entry into a slightly paranormal world~~Only 99 cents!