The Key for Spies ~ book 8 in the Hearts in Hazard series of historical mysteries/suspense.
Spies and traitors. Lies and treachery. Unexpected love where bullets fly.
One traitor destroys loyalty. What will two traitors destroy?
The British spy Simon Pargeter scouts the terrain for Wellington's army in French-controlled Spain. Miriella de Teba ye Olivita, the famed Doñabella, wants to give him aid, but she must first find the traitor lurking in her band of guerillas.
Can Simon escape the French patrol hot on his trail? With Major Pierre LeCuyer actively seeking Doñabella's identity, can Miri hold her guerrillas together long enough to get the information Simon needs? Can she locate the traitor before she is unmasked?
Or will the traitors reap the reward while Simon and Miri swing from a gallows?
https://books2read.com/u/3RKYpj
https://www.amazon.com/dp/B07MTSQTY7
trailer https://youtu.be/Ehc7VxUxCp4
Hero and Villain
Meet the protagonist Simon and one of the antagonists for The Key for Spies, a January release by M.A. Lee in her historical mystery / suspense series Hearts in Hazard.
1st April 1813, Thursday
Thieves night.
That's what his older brother called it, back when they'd run together. They'd taken to the dark streets, smashed locks to steal pastries or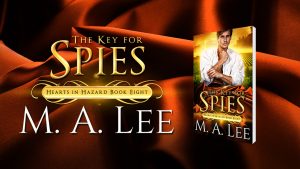 sausages, pried open windows to climb into dark rooms, and stolen locked boxes with stashes of coins. He never knew who Mattias worked for. Belly stuffed with iced rolls or spiced sausage, he had trailed behind his brother. Until the gendarmes caught Mat with a hand stuck in the alms box.
Hidden behind a dark column, he'd frozen when the gendarmes appeared. Then black wings flapped before his face. He ran until his sides hurt and his too-tight shoes split along the worn sides. He'd abandoned his brother, a betrayal that had never left him.
The next day he ran on to Marseilles. There, he re-invented himself as Pierre LeCuyer.