Betrayal rears an ugly head in The Mysts of Sorcery.
When her own spell blasted away her magic and destroyed her memory, Desora had abandoned everything. Now, discovering the depths of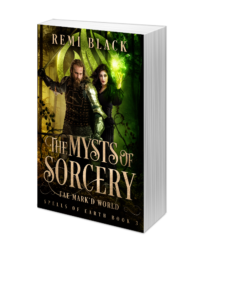 elemental Earth and her memory returning, she is on the verge of recovering all she'd lost—even her lost love, Brax.
Yet fierce battles loom before Desora and her allies.
The monster escaped. It heads for Mulgrum, killing as it flees. The Dark Fae Horst and his remaining riders track the sorcerer and his wyre.
Only when the monster is destroyed will Mulgrum and the Northern Reaches be safe. The sorcerer who brought the monster through the portal must also die.
With allies gathered, the final deadly battle nears. Desora risks losing all she's regained as she confronts a monster she has no idea how to destroy.
Then betrayal rears its ugly head.
***
The fantasy The Mysts of Sorcery is the concluding novella in the three-part series Spells of Earth, part of the greater Fae Mark'd World. The series began with The Wyrded Forest and continued with The Riven Gate. Readers will experience the greatest enjoyment when they read the first two novellas in the series.
If you like elemental power battling twisted sorcery and cold steel clearing paths through magical monsters, then you will love the adventures in The Mysts of Sorcery.
Available as an ebook from online distributors everywhere:
Kobo, Apple, and more: https://books2read.com/u/4ELExg
the Zon https://www.amazon.com/dp/B0B1Z5C354
View the Trailer of all three novellas: