Just published
The Key with Hearts
The ink is not quite dry on M.A. Lee's newest book, The Key with Hearts. Here's the link to the Amazon sale page. When KWH goes "live", it will be available exclusively at Amazon.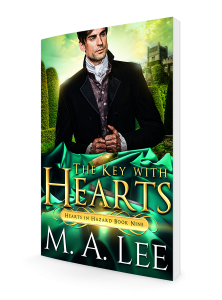 The Key with Hearts ~
Regency England. Suspense. Murder. Two hearts at odds.
Married for money, not for love.
A convenient marriage inconveniently causes murder.
Six months ago, Beth Corbett married Greville Myers. Her money saved his estate. His nobility raised her station. The couple have achieved an uneasy relationship, tepid and uncomfortable.
Then Beth is nearly killed in a failed attempt at murder.
Who wants her dead?
*The woman who had expected to marry Greville?
*The mother-in-law who hates her?
*Someone unknown?
*Or her husband, so he can keep her money and marry the woman he loves?
Who can Beth trust?
When the murderer strikes again and injures someone by mistake, how can Beth discover the truth? Or will she be the next victim?
The Key with Hearts is set in Regency England. At 59,000 words, the novel is Book 9 in the Hearts in Hazard series of romantic mystery and suspense by M. A. Lee.
Visit the series page or M.A. Lee's author page for a complete list of the Hearts in Hazard books. For more on books by M.A. Lee, visit www.writersinkbooks.com .
No ghostwriters, work-for-hire writers, or other collaborators were used in the writing of this book. 😉