The third Fantasy in an Alternate medieval World,
part of the Seasons in Sansward
Winter Sorcery
Book 3 in the Seasons in Sansward Quarternary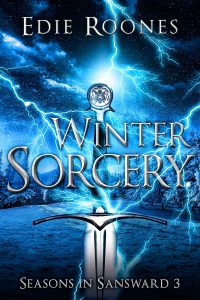 When a Gitane WitchMaster pursues two Frenc spies who stole a sphere of power, can a half-trained mage and a simple temple cleric help them escape?
Just as their cover is blown, the spies Rolf and Catal stumble upon a greater secret: the Kaerrefiorne, a blood-fed globe that will connect every Gitane Witch. They steal this orb that will complete the witches' connection and escape into snow-smothered Arlas.
When Catal is severely wounded, two clerics at a Protectorate temple outpost become the Frenc spies only hope. Legeeta and Niijai, a Green mage with unschooled powers, do not know they harbor Frenc spies.
Rolf takes the orb to the border to keep it safe from the pursuing Watrani. He is not an hour from the temple when the troop arrives.
With the Watrani is Keipven, a WitchMaster. He recognizes Niijai's magic as a potent replacement for the orb.
If he can bend her power to his will, his own puissance increases. If he can twist her to sorcery, the Gitane Witches become that much stronger against the Mages. If he can neither control her nor twist her, then he will kill her.
Will Catal be discovered and killed as a spy?
Will Rolf stumble into the Watrani when he returns?
And will Niijai be destroyed by Keipven, alive and enslaved to his plans or bloody and dead on the snowy fields of Arlas?
Available here: https://www.amazon.com/dp/B07BK88CDV