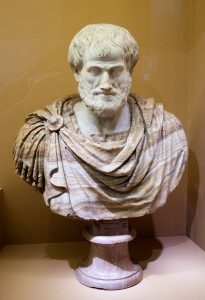 Aristotle's Essential Characters
For writers beginning to Think / Pro, converting from a hobby writer to a professional writer, Aristotle seems like a wrong turn. Especially when we're looking at the Essentials of Characters.
Geez, what could he possibly know? I mean, look at him. He's a bust.
I thought this way, too–once.
I mean, Aristotle is over two thousand years OLD. Really OLD. Decrepit.
What on earth can someone so OLD tell me about story?
I grew up with movies and TV. I have computers. And I drive a car. He had a banging chariot and scratched on something called parchment. He didn't even have good paper and ink.
Continue reading "Think / Pro: Aristotle's Essential Characters" →