Here's a first look at the Teatime version of the 2 * 0 * 4 Lifestyle planner.
21 days to break a habit.
66 days to make a habit.
I've always envied the English their afternoon tea.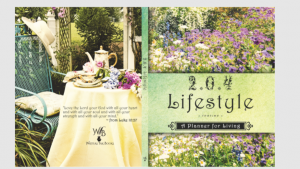 It's not the tea and the biscuits (cookies in American) and savory little sandwiches with the crusts cut off.
No, it's the "institution" of a quiet break before we must re-gird ourselves for the remains of the day.
The Spanish have their siesta, another wise institution, especially in hotter climates.
But afternoon tea draws me in.
Some might liken this afternoon break to stopping at the local bar before heading home. I don't think so. Stopping at the local is only grabbing something before heading off to consider the day done and over.
Teatime is not really the end of the day. We still have a couple of hours of work still to do. Tea–or coffee if that's your preference–keeps us perfectly sober, in our selves and the world but stepped back a little. Our bodies have time to relax; our minds have time to de-stress; our hearts, time to consider those around us, and our souls, time for quiet contemplation.
What more can we want? A method to keep us on track. To check our progress. To remember all the parts of ourselves with the rapid pace of the world is clawing us into tattery shreds.
66 days to make a habit of quiet contemplation, to keep us de-stressed, to help us be considerate, and to relax before we tackle the last push of the day.
2 * 0 * 4 is designed for these 66 days.
Divided into 6-week and seasonal increments for re-setting your goals and activities. An undated weekly layout so you can start anytime. If life interferes, you can pick back up where you left off.
And a beautiful cover celebrating teatime, to remind you that a daily spark will save you from the mud of life.