It's a History and Mystery Opportunity.
More than One!
Here's a history and mystery opportunity for readers and explorers.
Whether you like historical crime, historical mystery, historical suspense, crime / mystery / suspense, or all 3 — check out the History and Mystery Book Funnel at this link:
Freebies are available if you do a few simple steps. 41 writers have offered great reads. Check it out!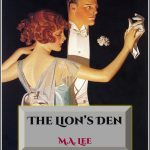 The Lion's Den is part of this opportunity, a free novella set in 1920s London.