Free Fiction
Take a W.Ink with a First Chapter Glimpse.
Edie Roones' fantasy Summer Sieges, ordinary people battling extraordinary odds and foul sorcery.
Chapter 1
Her body jerked.
Beren muddled her way up. Slowly. Into the pain.
Another jerk.
Return was . . . sluggish. A great darkness. A lesser one. She wanted to retreat from waking, crawl back into the deep blackness, but pain pulsed in her head and throbbed along her arm, denying any escape.
Her body jerked again.
Hands were on her. At her hips. Metal clinking. A lift. She groaned.
The hands stilled then gave another jerk that peeled something from beneath her.
And then a growl, deep, predatory. As black as the darkness. Danger as old as time.
Whoever had pulled at her scrambled away. She tried to open her eyes then realized they were open, to night-black. The dancing lights weren't in her throbbing head. They were torches bobbing, some bigger and brighter, others distant, like the will o'wisps that hovered over deepest springs and in magickal glades.
Something nudged her hip. It whined.
Dog. It didn't smell like dog. The smell was—off. The stench of blood overpowered, on her, around her. Death, cloying. Smoke, from the torches, from campfires. The ground underneath her felt sodden. And she remembered where she was, why she was in this darkness, in the midst of blood and death. The battle. She had survived. Fate hadn't marked her life to end today.
Beren lifted her hand. It felt weighted somehow. She touched hair. No, a thick pelt. She dug her fingers into the pelt and gripped. The animal backed, pulling her arm to its fullest extent, pulling her body up.
She lost her grip and dropped to the hard ground. It hurt—her head, her arm. She panted until the pain eased back to a throbbing. Some atavistic sense warned her to silence. The quicksilver moon hung low, but when it rose, it would illuminate this field of death.
Another nudge.
Voices distant. That same primal sense warned her not to cry out for help.
Memory flashed, vivid, lightning quick. The melée, the crash of steel on steel, metal glancing off shields, sharp edges hacking, slicing, piercing. Men yelling, screaming, groaning.
Lost.
They had lost.
She remembered the last wave of the enemy, marching onto the bloody body-strewn field as the sun dropped toward the horizon. Orange pennants snapped in the wind; the black cross-bands looked like undulating flames. Beren had stood back-to-back with a man she didn't know. All she cared was that he didn't wear orange and black, Summa's colors. That made him ally, the same as the other fighters around her, squared up for the last stand. The enemy column spread out then advanced, the dead tripping a few but not enough, never enough. She remembered lifting her sword, her muscles so exhausted her arm shook with the effort. Then the column was there. The man she faced grinned and jabbed. She stumbled. Light flashed. And she remembered nothing until . . . now.
Her burning eyes couldn't cry.
Another nudge. Another whine.
The animal wanted her to move. Lyonnel Keep's lord had wolfhounds. Maybe—. Beren dug her fingers into the pelt again, brought her left arm up. She moaned at the pain but gripped with that hand as well.
The animal backed. She came up slowly, lost her left hand's grip and lurched. She cried out. But the animal hauled her up until she sat.
She loosed her grip and grabbed her head. A thousand bludgeons beat inside her skull. She waited out the assault, even though the animal was pushing her, trying to get her to move. Whining in a two-note. Beren leaned over her knees and wanted to throw up. Her helmet was gone. Knocked off by the blow that had given her the headache. Glancing blow, or she'd be dead.
She wouldn't thank the Dread One yet.
Sword gone. The robber had likely taken it, the way he had peeled off her brigandine. She liked that sword. The smith had weighted for her woman's strength. Her father had paid for it when she became ward-castellan of Caldew Keep. He'd said a warder needed more than just a serviceable sword. But he'd left his own best sword at Caldew. Had he known even then that they would lose?
He'd known this morning. Beren had watched her father count the columns that Overlord Summa had arrayed against them. His face had changed, and she'd also known helping Lyonnel was a fool's gambit. But Lord Treasach had given his word to help Lyonnel's defense.
The animal nudged her again. It growled
Beren lifted her pounding head. The voices were closer than before. She tracked to her left and saw two shapes approaching, still a good distance away, tripping over the littered bodies. One had a torch. The robber was coming back, with help. One of Summa's soldiers? To finish her off? Or take her prisoner? Time to move.
She rolled to her right. A groan escaped, but she got to her hands and knees and crawled. The animal nudged her shoulder, directing her. Her right arm ached, but she didn't think any bones were broken. It didn't feel like blood loss. It felt like blunt trauma, massive bruising.
"This way."
She ran into a body, maybe a friend. She edged around it. Ran into another. And another. She put her hands in wet she knew wasn't water and gagged.
"Over here."
Something rolled beneath her hand. She lurched, kept crawling. The animal nudged her and growled.
"We gathered up the wounded after the battle."
"I tell you, this 'un was alive."
Beren crouched and fair slithered. She didn't look back. She didn't look forward. She depended on the animal to guide her.
Her troop had fought on the left flank, near the forest's edge. The soldiers had backed them nearly into the trees before the square broke. Even beaten, the lords Maus and Treasach had kept fighting. The rules of war ignored, the battle became nothing more than slaughter. Beren had fought to stay alive.
She wanted to stay alive.
The rumbling growl in her ear meant warning. She flattened where she was, face down in the churned mud. She tried to look lifeless, although her every muscle quivered with the need to get up, get away.
"Where?"
"I don't see her."
"Ya imagined it mebbe."
"I got this sword off'n her, didn't I?"
"Sword like any other."
The men stomped around. Beren inched a hand to her left boot and the dagger there. Still sheathed, thank Ain Draden. Then her fingers touched cold steel. She followed the blade to the pommel and took it from a lifeless hand. The metal whispered as it slid over the ground.
"Not here. Ya lost yer chance, Goss. The dog's gone."
"Told you, it weren't no dog. I saw the red fur in the torchlight. A prica."
"Covered in blood, mebbe."
"It looked like a wolf. Sounded like a wolf. I ain't blind, Sergeant."
"Just scared ya, man, into thinking ya saw a prica."
"Help me look some more. We'll split the pelt money. Half and half."
"Oh ho, gone up from a third, have ya? Nay. It's gone, Goss. Ya shoulda killed it when ya had the chance."
"I'm no swordsman. Now, if I'd had m'crossbow—."
"Come on. This side's been scavenged. I don't think anyone's been over to the tower, not since all clear. Come on, Goss. Stop looking for that dog."
Goss went, his grumbles fading as he followed the sergeant across the field of dead.
Beren waited for a nudge, obeyed it with alacrity, dragged the sword over the ground, over dead bodies, following the prica's direction.
She didn't doubt it was a prica. Red wolves were rare. Hunted by the greedy for their crimson pelt, hunted by the superstitious for the legend that claimed they were enchanted men cursed into wolf shape. Beren didn't care. A miracle had brought the prica onto this field of death to find her, the only one who still lived. She didn't understand the reason it rescued her; she didn't care to understand. She just prayed it would get her away from Lord Summa's troops.
When he nudged her under the belly, she took that as a sign to stand. She climbed to her feet. Her head resumed its pounding. She swayed until the pain eased. The treeline was close. The bright moon helped her to see. She stepped, staggered over a body, stepped again, stepped around, stepped again then over.
They gained the trees. She lost the silvered moonlight. And tripped over another body. She fetched up against rough bark. Beren steadied herself then forced her feet to keep moving. She got more trees between her and the battlefield. Nausea roiled up in her throat. She staggered into another tree. This time she clung to the rough bark and sagged against it.
The prica nudged her thigh. He whined. Growled when she ignored him. He nipped her trews and pulled.
"A minute. Give me one minute."
He growled but subsided.
She stared at him, a form blacker than the darkness. He had a strange intellect for an animal—to wake her, to guide her escape. Pricas were said to attack men, jealous of those who hadn't been cursed into wolf-form. She felt no fear with him.
The sword dragged in her left hand. The steel flashed as she transferred it to her right. She cleaned the metal on her trews then lifted it to sheathe. It shook. She had to guide the tip into the scabbard, but the blade slid home without a catch. Then she leaned her head against the thick tree trunk and closed her eyes.
Time slipped past. She felt its current, felt herself sliding into its cold, black water.
The prica growled.
"Easy," she hissed then opened her eyes. Enough moonlight came through the trees to distinguish the wolf shape. He faced the line of trees, not the battlefield. "What is it?"
The animal growled again then looked at her and whined.
"I want to go, too. Need a horse, I think. No way can I walk back to Caldew."
Her friends would laugh at her, talking to a dumb animal. They didn't believe in legends, men cursed into wolf-shape, witches who could walk through shadows, monsters who appeared out of the very air. But then they hadn't been raised on stories about mere men fighting sorcery. They hadn't leaned against Lady Treasache's knee as she recounted the tales of the powerful mages. They hadn't shivered with fear at MidWinter and MidSummer as Lady Treasache and the healer Hergoth drew down lightning bolts from the midnight skies.
And some of her friends were dead. They would never laugh again.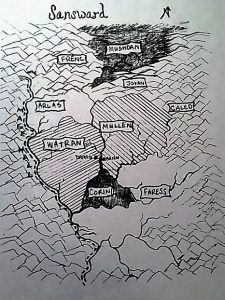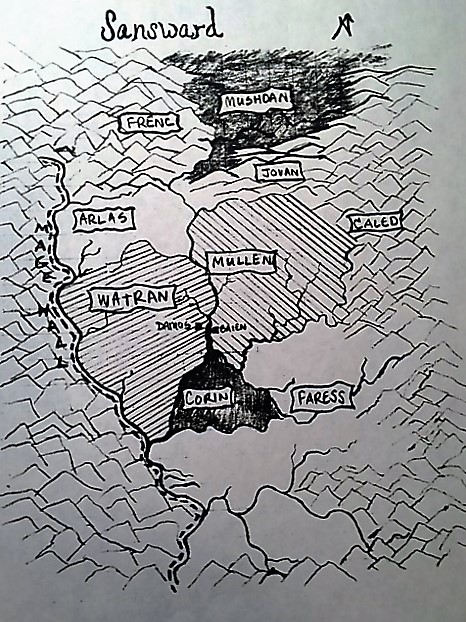 The prica nudged her then started through the trees, stopping only to ensure she followed.
They moved slowly. Hunt-craft came naturally to her, and her body and her mind limbered up as she moved. The headache subsided but kept up a dull pounding to remind her the injury was still dangerous. Her arm throbbed, but she could move it, bear weight on it. She wasn't dead.
Her father was.
The thought caught her unawares. She sobbed, caught back the next. Grief had to wait. But it wouldn't.
The prica returned and pressed against her thigh. The animal leaned its weight when she didn't—couldn't move. He crowded her, as if offering warmth and solace.
Beren dropped to her knees and buried her face in his ruff. The dense fur absorbed her tears. The sobs she controlled, but she shuddered with the effort to close the weir-gate on the grief. Her fingers clenched in the crimson fur. The prica whined and lifted one paw to her thigh.
She didn't know how long she clutched the prica. Longer than she had pressed to the ground, willing the robbers away. Longer than she had sagged against the tree. A shriek pierced the inky night, and she shuddered at the sound. Her mind stilled. Her body stilled. She lifted her head.
The woods seemed too quiet. No wind rustling the leaves. No animals rooting in the undergrowth. No bird calling for companions to weather the night. She canted her head, listening for the sound of the great army of Summa, bedded down for the night: for sentries walking picket; for guards walking the ramparts of Lyonnel Keep and calling "well met and safe". She heard none of that.
She could smell smoke from campfires. A horse nickered, not far away. She could use that horse to escape. Torches flickered through the trees, no longer bobbing around but steady and still.
The prica licked her cheek. She dodged the next lick. "Thanks but no." She climbed to her feet, easier this time. Still painful. "Which way?" and he started off.
Beren followed, time meaning nothing in this night. She counted passing trees. They came nearer the torchlight. She thought they skirted the battlefield, but her headache kept her from figuring out their direction. She knew he led her to Summa's camp. He had to; the horses would be there.
She staggered and clutched at a tree. She closed her eyes against the dark, but her memories were just as dark.
The march from Caldew to Lyonnel began with a day-long journey past the ripening fields and farthest pastures, the outlying farms and Heir's Lodge on the forest verge. They camped on the lodge's meadow, a grassy swath that narrowed as the forest crowded around it. Dense trees wended down from the ridges of the Caled Mountains to create a vast border between the two eastern keeps of the Mullen Plains. Both Caldew and Lyonnel claimed the rich woods, deep and primitive, tenanted only in pockets of glades, left to the wild animals and wild elements. The lords met for autumn hunts, their people for nut-gathering and berry-picking, taking from the forest only what they needed, an ancient pact between the two keeps whose backs were to the mountains.
Summer heat had sweated the troop. For the three days that they traversed the forest, the dense trees muted the sun's blaze as well as the wind's cooling. Each evening they camped in the road itself and carefully did not speak of the enemy who had allied with darkest sorcery, the enemy that Lord Treasach had bonded with Lord Maus to defeat.
Many of Caldew's soldiers had never ventured beyond the forest. Lyonnel Keep's outlying lands looked much like home. Maus' keep stood somber grey beside the forest. Its pastures and patchwork fields stretched on its other side. Lord Treasach ordered his men to make camp as Lord Maus rode out to meet him, his banner snapping in the wind that had gone missing for three days. And they had no sooner disposed the troops around the keep and its inmost pastures when word reached them of the Watrani lord's approach with his great horde.
Beren's brow creased with more than pain as she recalled the day-long battle. Tonight Summa would be couched in Lyonnel Keep, a box tower with a single wall now in disrepair. His army held the fields around Lyonnel. Soon he would march through the forest to Caldew and take that keep as well, finishing his campaign to bring southern Mullen under his dominion. She leaned her head against the tree's rough bark and remembered yesterday evening as if it were moments ago. No one had slept, not since Summa's army had marched in and set up with the speed of long custom.
A hundred campfires and more dotted the common pasture. Laughter from Summa's soldiers carried across the fields to the silence in Treasach's camp. Beren stared at those campfires and knew the coming battle would be like nothing she had ever faced. Running skirmishes against raiders out of the mountains had trained her, but this horde would be seasoned campaigners. Her father, Caldew's veteran castellan, had not needed to tell her that when he came to stand at her shoulder.
"Stand hard, Beren, like I taught you." Balder clapped a hand onto his daughter's shoulder. "But get clear. Don't waste your life on this fool's gambit. Better to warn Lady Treasache what will be coming at her as soon as they finish with us. Mount a goodly defense. Never let them inside the first wall."
She stared at him. He still wore his mail, unfastened after his meeting with the two lords and the other commanders. She stood as tall as he, both of them built with long bones on a spare frame. "A goodly defense? We left only a few men at Caldew."
"A few men but some of our best. Nils, Great Aulk, Ferron. They wanted to come, but I am glad I ordered them to stay. Once you reach the keep, close the gates and admit no one, not even holders requesting shelter. If they are not within the walls when you arrive, they must fend for themselves. Summa will likely leave them alone. He wants the keeps to hold the lands."
"Siege. You want us to withstand a siege?"
"Caldew can withstand a long siege. We've stores enough and good water to last through the winter. Summa's army won't last the winter."
Balder wasn't planning for the coming battle. He thought beyond it, to the keep, to the survival of the Treasach line and the families left behind when the troop marched from Caldew less than a seven-night ago. "You expect us to lose? We have the troops of two keeps. We will draw a line of steel—."
"And will die. As countless men have died, from Tarvin Keep on the Watrani border across the whole arc of southern Mullen and now to us."
"We outnumber them, Da. You can count the fires and determine the numbers as well as I can. We do outnumber them. Summa has lost men all summer, if not to battle then to hold what he has taken. They have overreached their reserves."
"You sound like Hault," her father said, silencing her effectively, for Balder had no great opinion of Lord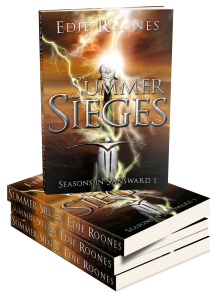 Treasach's son and heir. "These are not raiders out of the mountains, outlaws who swoop in to steal and plunder then run from an honest fight. They are veterans—and our numbers are swelled with boys who did not learn to pick up a sword until three months ago when we saw the horde coming."
"You speak of our doom and yet want me to survive? I am surprised you do not order me back to Caldew tonight."
"You would not leave, not even if Treasach ordered it."
"Why tell me this, Da?"
He placed his hands on her shoulders. A tall man, as hard-edged as his sword. Age hadn't weakened him; during drill, he knocked younger men to their knees, all but Nils and Aulk. Beren looked into eyes as pale as her own, his sweat-dampened hair as flaxen as her own yet also streaked with ash. "Because you're ward-castellan and my daughter. Because I trained you to win by any means. Because you must survive this day."
"You ask me to lead men to their deaths then turn my back on them?"
"Not that. I taught you honor as well as steel. But—." His fingers worked on her shoulders. "If the dread god wills that you live, get to Caldew as soon as you can. Warn Lady Treasache. Old wyrder that she is, she'll know what to do."
Good advice, but even Balder had not known that the rumors of sorcery were true, that Gitane Witches fought with Summa's horde. All summer they had heard reports of the fall of one keep after another, and wild rumors accompanied the news. Some claimed the fields around Keep Haight had turned to swamp overnight; others said that Whitegate's stout walls had been strewn like pebbles; yet more whispered that wraiths haunted the burned-out ruins of Marredal. None of those rumors prepared Beren for the battle.
The sorcerous Gitane shaped power into spheres that exploded with devastating fire. Twice she saw lightning drawn down from a clear blue sky. Wolves fought alongside men, and the defenders ran screaming when the pack was loosed on them as column after column fell. The twin gates of Lyonnel toppled from a swirling blast of black power as if a child kicked over sticks. Beren held her ground and fought, backing toward the forest as more and more fell around her. She fought and feared, for how could Caldew stand against sorcery?
She shook her head. Pain dissipated the memories of the day, but nothing could dissipate her fear. She had survived the battle, the prica was seeing to that, but how could they survive when Summa's Gitane-backed horde surrounded her home?
~~~
Summer Sieges is the first book in the Seasons in Sansward, set in an alternate Medieval world.
Available now, exclusively on Amazon.