The Hazard of Secrets celebrates its first anniversary.
In 2019, on this day, The Hazard of Secrets published in ebook format. Now it's also in paperback. Enjoy the promo season!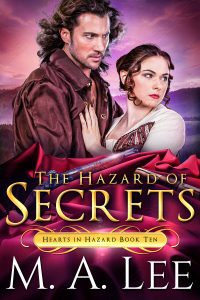 Complex Schemes. Dangerous Pasts.
Clarey Parton crosses the Atlantic to steal an inheritance. She hopes that no one discovers the rightful heir lies in a cold grave.
Jem Baxter returns to the England he fled three years before. He assumes the name James Axminster to conceal his past, one littered with misdeeds.
When a press gang sees two people traveling alone, they seize the opportunity for quick cash: they plan to sell Clarey to a brothel and impress Jem on a merchant ship. Fate brings these two lonely souls together. Chance helps them escape.
Yet escape traps them in another secret—one with murder as a bloody solution.
The Hazard of Secrets offers twists and turns as tight as knots. Can Clarey and Jem keep their secrets, or will murder force them to reveal all?
Take advantage of promotional pricing
during the Summer of Hearts in Hazard. 
Online distributors everywhere at this link and on Amazon in ebook and paperback formats at this link.