This August is a rare one at Writers Ink Books. All three Writers are celebrating book birthdays.
On the 1st ~ another Wild Sherwood short story, "A Twist of Faerie Magic"
Twist after twist reveals the true heart.
Dav spent months earning prizes for wrestling, all to raise enough coins to marry his love Edrys.
On his return to Nottingham, however, he discovers Edrys married another man during his absence. When he sees bruises on her, he threatens her husband.
Then the man is found dead, and Dav is accused.
How can a twist of Faerie magic reveal the true culprit?
~ ~ ~
"A Twist of Faerie Magic" is the sixth collaboration between Edie Roones and M.A. Lee for the Wild Sherwood series. The first five stories appear in the anthology Into Wild Sherwood, available now.
Publishing throughout August are for more stories about the Outlaws of Wild Sherwood, men driven to crime to fight crime and corruption:
Alan-a-Dale, "A Faerie Song for a Feast"
Arthur à Bland, "Mischief of a Faerie"
Jack Greenleaf, "The Green Man"
Gilbert Whitehand, "The Prize of a Golden Arrow."
Novellas with Robin Hood, Will Scarlet, Little John, and Much the Miller's son are coming soon.
On the 2nd ~ It's Dark Fantasy with Weave a Wizardry Web.

In book 1 of the epic Fae Mark'd Wizard series, a wizard travels sharp-bladed roads.
Alstera is the greatest of the young Enclave wizards, granddaughter to the leader of the Enclave. Yet the wizard leaders thwart her wish to fight sorcery.
Desperate to do something, she explores ways to increase magical power. Her search leads to the Nexus, a forbidden spell once used to enslave wizards.
Shape-shifting wyre are in the Enclave and targeting wizards. A sorcerer controls them from inside Enclave walls.
And rumors of vile blood spells increase the danger.
*Weave a Wizardry Web* begins the dark fantasy saga of twisted magic against foul sorcery and the dark corruption that people can sink to.
When I published this book in 2017, I achieved my first one million words published and over one million fiction words published, with my three pen names Remi Black
#dark
fantasy, Edie Roones
#fantasy
, and M.A. Lee, historical
#mysteries
with a dash of romance.
On the 8th, a book bundle from M.A. Lee
A Trio of Keys brings together the third tritypch in the Hearts in Hazard series.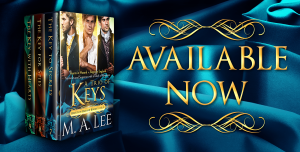 Book 7 in the series ~ The Key to Secrets ~ Debutantes should snare fiancés, not murder them. Constable Hector Evans must solve three murders. Is his former love guilty, of is she a convenient scapegoat?
Constable Hector Evans was introduced in The Danger to Hearts.
Book 8 ~ The Key for Spies ~ Spies and traitors. Lies and treachery. Unexpected love where bullets fly. One traitor destroys loyalty. What will two traitors destroy?
Book 9 ~ The Key with Hearts ~ A convenient marriage inconveniently causes murder. More like a vintage gothic by Victoria Holt or Dorothy Eden
On the 24th
The final book in the Hearts in Hazard series of Regency mysteries and suspense with a dash of romance. I love this story.

A very vintage Gothic romantic suspense :: Two wives haunt the castle. Will she be the third to die?
On the 31st
The first book published under the Edie Roones name: Summer Sieges
All of her life, Beren has taken orders to the defend the castlekeep, first from her father and then from Lady Treasach. Then the Watrani Horde with their Gitane Witches came and broke the siege.
To save a magical crystal, Lady Treasach orders Beren to gather a small party and they flee through the under-veil to the mountains.
But the Gitane Witches continue to track them.
With the help of a disenchanted Prica, the warrior Storr, can Beren protect the lady and her magical crystal? Or will she fall to the Gitane and the Watrani?
— — — — —
I dared myself to enter self-publishing, and I did it with this book.
In 2013, I realized that I had lost touch with so much that I loved. I was crocheting at the time, and as much as I loved crochet, I loved something else more.
Writing. The spinning of stories.
In the autumn of 2012 I had purchased my first Kindle. At some point I realized that some of the writers in the Kindle Store were self-published. A few were unprofessional, but the majority of indies had published great manuscripts with few errors and excellent stories.
Then, late summer of 2013—yes, I know I'm slow—I realized that I wanted to return to writing. I would ignore traditional and pursue the indie route. I counted up manuscripts, picked one, and settled into a re-read to discover that I would need to do to bring it up to speed.
I also researched self-publishing. It couldn't be as easy as it looked. It was AND it wasn't. I would need a cover designer—that search took 18 months. I would need to learn formatting—easy peasy since I understood the ins and outs of MS Word, having grown with the program since the early 1990s.
Summer Sieges wasn't the novel I picked to publish first; it became my first published novel because of the cover design search and needing to write the third book in a series, to have all three published at once.
Summer Sieges became my self-publishing test case. Could I do it? Would it work? I did, and it did—on this day in 2015.
This #fantasy is still one of my favorites. Hard to believe this is the 6th anniversary of my writing business.