Celebration X 3? Does that mean it's more mysterious?
Of course. Smugglers, Spies, and Secrets.
On this day in 2015, M.A. Lee launched her professional writing career with the publication of her first three novels.
A Game of Secrets
Smugglers, secrets and spies: Kate tries to hide in plain sight; Tony tries to catch a spy. First they fall in love, then they fall into trouble with smugglers. Will they survive?
Kate Charteris never expects to become a damsel in distress. This army-brat orphan is no damsel wh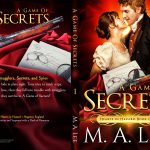 o faints at the first sight of a dragon-like trouble.
Hunting Napoleon's spies, Tony Farraday falls hard for a chance-met damsel not quite in distress. Circu
mstances part them; fate reunites them at a run-down inn on the English coast, the lair of smugglers who are helping the French spies.
Will the smugglers end their dangerous game of secrets? Or will both Kate and Tony be caught in a watery trap when the smugglers sail for France? Have they both lost this Game of Secrets?
A Game of Spies
Salons and soirées, flirtation and dancing, gambling and spies: Josette and Giles fall in love over a deck of cards—and try not to die.
Daughter of a French émigré, Josette Sourantine expects only dancing, flirtations, and gambling on cards when she travels to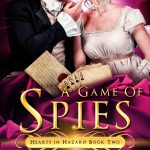 London. Giles Hargreaves searches the London salons for a spy sending vital government documents to agents for Napoleon.
When his flirtation with Josette ventures into a light dalliance, Giles wonders if he has fallen for a traitor to England. Josette fears she is giving her heart to a hardened rake. How can he declare his love when they have known each other so briefly?
How will they discover the truth? Or will the French spies offer a deadly answer to that question?
A Game of Hearts
Two Hearts Shadowed by their Past
Self-made financier Rafe Lockhart needs a titled wife. A quick marriage to Lady Margaret Symonds, widow of an earl, seems the answer to his problem. Her beauty and wit sweeten his plan.
After an abusive marriage, Maggie Symonds swore off husbands, yet financial difficulties force her to accept Rafe Lockhard's proposal.
Neither expects passion to fire up their marriage. Yet even as they discover each other, two blows deal wounds to their blossoming love.
Two Hearts Crossed by Circumstance
Falling in love with his employer's daughter Connie is not Roger Denby's biggest mistake. No, his first mistake was giving her a passionate kiss.
Connie knows the walls between her and Roger Denby. When he refuses to court her, she turns her attentions to an acceptable society beau.
Deal in the Unexpected ~ a courtesan and two rakes, all out for mischief … and murder, bloody and foul.
This Game of Hearts turns more dangerous than Rafe & Maggie and Roger & Connie ever anticipated.
Enjoy A Trio of Games.
M.A. Lee says, "These three novels launched my indie writing career in 2015. I've always enjoyed reading the books of Georgette Heyer and Victoria Holt, Jane Aiken Hodge and Daphne du Maurier. Writing this Trio of Games gave me just as much enjoyment. I hope you also enjoy them."
Available in ebook and paperback formats.
A Game of Secrets
https://www.amazon.com/dp/1734694629
Trailer     https://youtu.be/BzwOWP5ssCA
A Game of Spies
https://www.amazon.com/dp/1734694637
Trailer     https://youtu.be/y3z34pr0ycM
A Game of Hearts
https://www.amazon.com/dp/1734694645
Trailer     https://youtu.be/rht6hMctbGI
Or check out the ebook bundle A Trio of Games, available at this link.