It's past mid-September.
Before you know it, October is gone and November is here!
Do you know what November is? It's National Novel Writing Month. And September and October are time for the writing prep.
NaNoWriMo!
If you've always had a book that you want to write but you need a little push, NaNoWriMo is for you.
But how do you start?
Here in September, we're helping with blogs to help you Start Writing. The last blog–publishing on WIS on the 25th and here on the 30th–will be how to Keep Writing.
Let's be honest. It's easy to start. It's harder to keep on and to finish.
We've a few books to help. And now is the time to start Prepping for NaNo.
If you want to start writing your first book, you need to look for advice and guidance in M.A. Lee's Discovering series. These books will give you all the writing prep necessary for success.
The first writing craft book, published in the Spring of this year, is Discovering Your Novel, designed as a weekly journey from original idea to book-in-hand.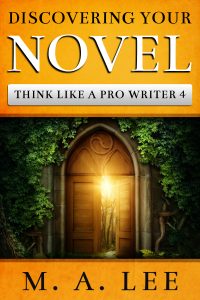 Check the Pro Writer page herefor free charts from DiscNov.
More help is coming in the Discovering series, with Discovering Your Characters and Discovering Your Plot.
To improve your words on the page, you will want to investigate Discovering Sentence Craft, just in time for the holiday season.
And most newbie writers have difficulty deciding on their public writing persona. As you start your New Year with pro writer intentions, check out Discovering Your Author Brand. All books coming soon!
If you struggle with maintaining your focus to write, if you struggle to with disruptions and distractions, you need to change from thinking like a hobby writer and begin thinking like a pro writer. Think like a Pro gives you the seven lessons needed to change your perspective on your writing goals.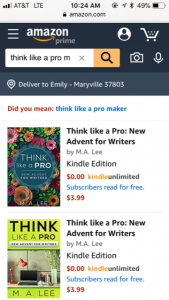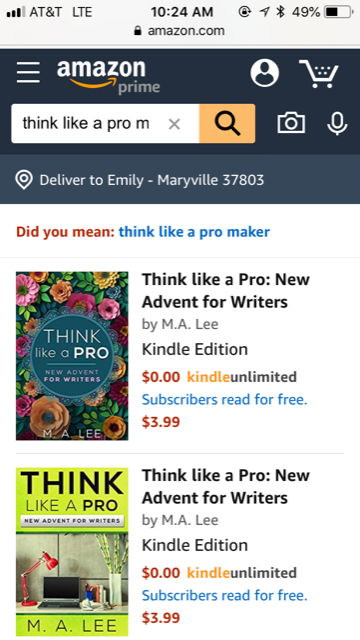 Think like a Pro is available in two editions:
the guiding lamp https://www.amazon.com/gp/product/B07DYJDY5S/
or the floral https://www.amazon.com/Think-like-Pro-Advent-Writers/dp/1983247685/
The Big Push known as National Novel Writing Month–NaNoWriMo–occurs every year in November. Are you ready? Start tracking your daily word counts and your projects with the Think/Pro Planner for Writers.
Use the Think/Pro Planner for daily word counts and project tracking Also available in two editions to match the Think like a Pro guidebook.
Guiding lamp https://www.amazon.com/Think-Pro-Planner-M-Lee/dp/1983248673/
Floral https://www.amazon.com/gp/product/1983248592/