It's the first birthday of the 2 * 0 * 4 Lifestyle planner.
With a focus on the keto / fasting diet and trackers for your healthy habits, 2 * 0 * 4 reminds you that you are also an intellectual, emotional, and spiritual person.
Guided by Luke 10:27 ~ "Love the Lord your God with all your heart and with all your soul and with all your strength and with all your mind."
In seven cover versions: although the Mountain Stream is my favorite version.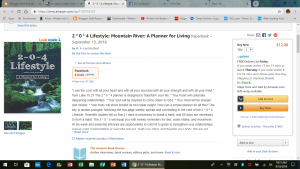 Suitable for women and men.
Still only $12. A great deal at a buck a month.
Weekly inspirational quotes, places to write appointments and notes, habit trackers and progress meters, with progress reviews and planning previews to keep you happy throughout the year.
Add a little bliss to life with by living the 2 * 0 * 4 Lifestyle.
Visit my M.A. Lee page to see all the covers available.