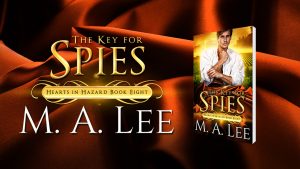 Just because the typing is finished doesn't mean the manuscript preparation is over.
But typing ended on January 5.
Then it was revisions (adding in and fixing things), corrections, proofreading and editing for typos.
After that, uploading to Amazon, waiting for approval and addition to their online store. and you can find it here.
The Key for Spies went live! on January 15.
January 15 will now become its official birthdate.
I created a series of Facebook posts (I'm never sure how much those help).  I will consider Amazon ads soon.
However, first comes the trailer . . . because I like creating them.
Here it is:  telling about the story and setting the tone.