In Spring 2017 M.A. Lee released the second three books in the Hearts in Hazard series, The Danger of Secrets,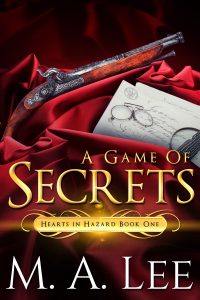 The Danger for Spies, and The Danger to Hearts.
The first three books in HnH are ~ A Game of Secrets, A Game of Spies, and A Game of Hearts.
All of the books are loosely connected with some characters repeating. However, the plot is completed within the book rather than carried into the next one. Readers can finish one suspenseful without having to wait for the publication of the next one to discover the end to the mystery . . . and the romance.
The designers at Deranged Doctor Design developed wonderful covers for the three new books. At M.A. Lee's request, they used different models for each one. Response to these new covers was wonderful.
However . . . .
The new covers didn't keep the branded look for the first three HnH novels.
So, new covers for the first 3 are a must.
Here's the first look at the new cover for the first Hearts in Hazard book, the first book published by M.A. Lee. (3 Firsts!)
A Game of Secrets
Hearts in Hazard, 1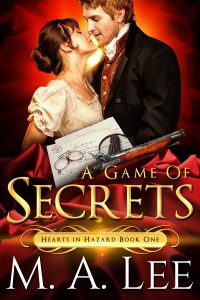 Tony Farraday and Kate Charteris collide on a street. Kate continues her flight from a nefarious cousin while Tony stays to receive his orders to find a French spy.
They meet again, without a collision, at the seaside inn where Kate has found a job and he has discovered smugglers who may be working with the French spy.
Soon they are deep into stolen government documents and smugglers' suspicions as they fall in love.
In the first cover, the designer found an image of a period pistol as well as closely written papers and a feather quill. The deep crimson background represented the dangerous game both Tony and Kate found themselves in, pretending to be innocent when they were deep in an investigation into smugglers and spies.
The designer used the same images and color for the second cover, bringing in the elements we loved with the models for Tony and Kate. (Isn't he handsome?)
We LOVE, LOVE, LOVE how the designer incorporated the old cover with the new one.
As always, all Writers Ink Books are available on Amazon Kindle. Click here to purchase.